Equipment Donations
We are always looking for gently used or new uniforms, equipment and balls. Let us know if you think you can help.
Corporate Sponsorship
For as low as $100/month your company can sponsor an academy. Your monthly donation will sponsor up to 200 children.
Make a Donation
Ready to make a difference? Donate directly to Petrichor programs and immediately begin impacting children.
Changing communities and developing leaders through the power of sport.
Community Impact
Petrichor has a strong vision of positively impacting as many youth as possible in Cameroon. In order to do these, we intentionally have chosen to be an organization that provides strong support for existing Cameroon soccer academies as opposed to developing a competing academy.
Youth Mentorship
Petrichor Football Association member clubs have monthly requirements that support the position of each academy as positive influences on their community. Additionally the coaches and directors are clearly positioned as youth mentors, instead of simply football (soccer) coaches.
Football Development
Petrichor provides training materials and free education for the academies that teaches best practices when it comes to providing effective instruction for each age level. We also encourage them to invest the time in developing the entire roster, instead of just the most gifted footballers. This philosophy successfully creates a more competitive academy from top to bottom.
In underdeveloped economies, petty crime and substance abuse amongst youth are often the result of hopelessness and boredom. This hopelessness that comes from believing that there is no way to better themselves often leads to poor choices at a young age that are compounded by boredom, discontentment and lack of strong positive mentorship.
When youth do not believe that anyone is for them, and that there is no clear path towards changing their situation, it is easy to begin making unhealthy choices. This is why the work of Petrichor is so important. Children in these circumstances typically see soccer as the most likely pathway out of the economic struggles of their community.
Fortunately the pathway that soccer creates goes two directions and it allows us access into the communities through a shared passion for the sport. We are really grateful to have a relationship with local academies and networks. These partners are working every day to better the lives and futures of thousands of children in Cameroon through PFA.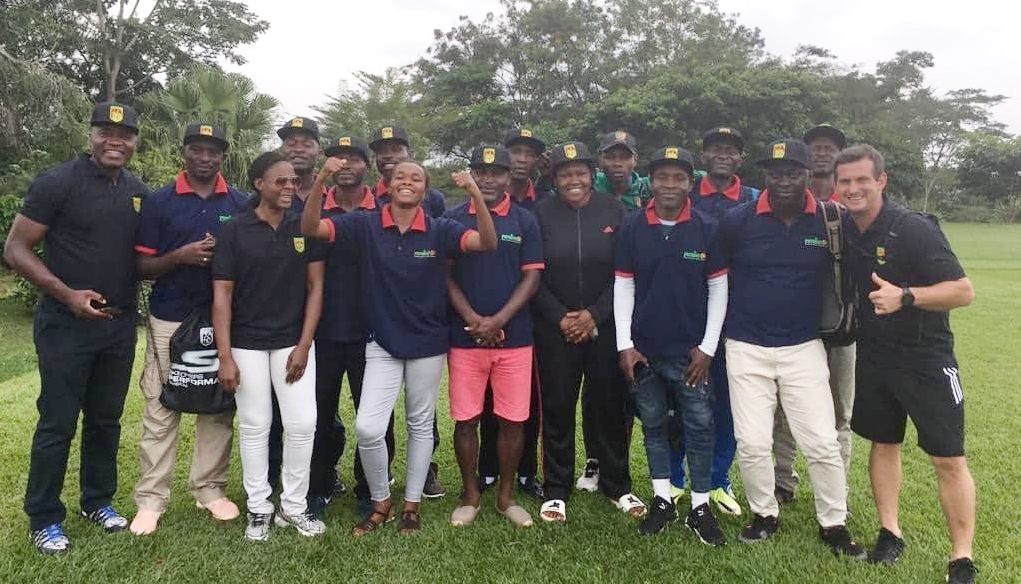 Our group of local coaches impact over 1500 children in and around Yaounde Cameroon each week. Their direct involvement in the kids character and football development points them towards success. Our coaches are the true heroes of this story and who are building the next generation of leaders.
Paul Dreisbach | Co-Founder
Paul has lived in the Philippines, USA and France and currently lives in Portland, Oregon with his family. He's passionate about creating impact and opportunity through creative problem solving and using sport as a tool for social change.
Armand Bessala | PFA Director
Armand is passionate about using his coaching skill to positively impact children and consistently invests in the community through his leadership on and off the football field. With a strong football background, it was a natural fit for him to form the club Green City FC and begin impacting children every day. Armand's role as the primary liaison between the PFA Leadership Team and the Member clubs in Yaoundé is a dream come true for him, as it allows him to positively impact even more Cameroonian youth.
Jean Paul Endzodo| Programs Officer
JP was born and raised in Yaounde and has a passion for youth and sports. He desires to see local coaches and athletes be the best they can be. JP also has a burden for the less privileged and wants to see them be given better chances in life.
Jordan Cone | Co-Founder
Jordan has lived in CAR, Cameroon, USA and France. He is currently living and working in Yaounde, Cameroon with his family and teaching at RFIS. Jordan loves to inspire those around him to be the best version of themselves.
JoBen Barkey | Co-Founder
JoBen grew up in the Peruvian Amazon Rainforest and now lives in Orange County, California. His Soccer Shots Orange County company trains 1,500 children per week from the ages of 2-8 yrs old, giving him extensive experience developing soccer academies.
John Nganje Lewis | Social Media Manager
John lived most of his life in Bamenda and Yaounde, Cameroon, though he now lives in the United States. He has played football around the world and is now utilizing his business, marketing, and football knowledge and experience to work with Petrichor Football Association by using social media and digital tools to help others discover PFA and support the mission. He has a passion for football and its power to unite and inspire people around the world.
What is Petrichor?
| pet·ri·kor |
Petrichor is the smell of fresh rain falling on dry earth. It is the signal of new hope, growth, and something exciting just around the corner. We stand for hope and new opportunities.
Working together with existing leaders within the Cameroon football community, our vision is to provide these mentors with the tools necessary to provide guidance for children who are desperate for hope.
Petrichor Football Association (PFA)
PFA is an organized and structured association that provides support and training for its members. Together we work to elevate Cameroon football, while at the same time positively impacting children. Once accepted into the program our coaches and associated academies are held to the highest standards of both football and mentorship development. This includes mandatory community service events, continued education and training, and tournament participation. This opportunity is equally provided to all children regardless of gender, race or religion.
Why an Association?
Instead of starting competing academies, PFA exists to develop and elevate existing clubs and coaches collectively. We are here to provide training and education for proven mentors who are already positively impacting their communities. This model inspires and empowers local mentors to extend their reach within their local communities.
Sponsors
"After spending 17 days in country, we are confident that we have found an organization that is aligned with our commitment to positively impacting children through the platform of soccer. Petrichor has taken an approach that resonates with our entire team, they are investing time and resources into supporting local existing soccer academies. Through Petrichor, we are excited to have found a platform that allows us to confidently invest in the development of local mentors within the existing Cameroon community. We could not be more excited about the opportunity we have to positively impact thousands of at risk children in Cameroon through our agreement to provide ongoing long term financial, structural and equipment support for Petrichor. "
Soccer Shots Orange County
Soccer Shots, Orange County
Our entire staff of 25 could not be more excited to be financially sponsor PFA. This relationship is a part of our DNA, it defines what is important to us and motivates us to focus on being excellent every day. Our growth and success directly impacts children in Cameroon as we give a percentage of our revenue to this organization every month. As we say in California, "we are Stoked" to have this opportunity to be involved with PFA.
-JoBen and Amanda Barkey
Petrichor Football Association: Coaching Development
Petrichor works with 14 Cameroon coaches and their academies. By investing in local coaches, Petrichor impacts hundreds of children on a daily basis. PFA members use their academies to build into their communities, developing the youth through football training and mentorship. Each member academy is committed to mentoring and coaching every child, regardless of skill level. All activities are documented through monthly reports that are submitted for review and documented by our administrative team located in Yaoundé.
PFA is extending its reach by building relationships with existing football organizations in Cameroon. This includes the head of ANAFOOT (The National Football Academy) Carl Enow Ngachu and FENASCO (The National Federation for College and University and Sport). As an association committed to supporting existing efforts, our teamwork driven organization is continuing to engage in partnerships with all levels of football authorities in Cameroon, including Celine Eko (National President of Women's Football in Cameroon). These partnerships will help Petrichor continue to develop and invest in coaches, youth and Women's soccer in Cameroon.